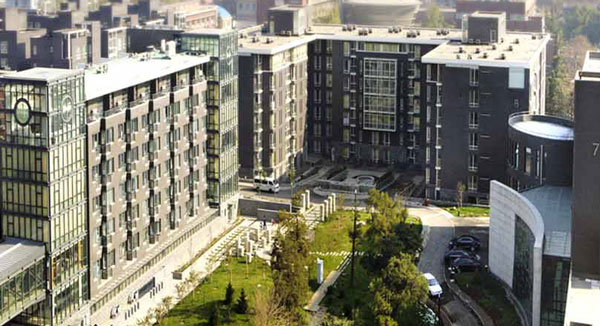 This year's SHVM meeting will be held at Peking University's Zhongguanyuan Global Village. Scientific sessions (talks and poster presentations) as well as accommodation for all participants will make use of two of the Village's buildings. State-of-the-art conference halls and excellent rooming choices will provide a perfect setting for all participants. Details for planning our trip are indicated below. Please remember that, in keeping with the tradition of the SHVM, the number of participants will be capped at 150—register soon!
Visas and Invitation Letters
In most cases, you must have a valid passport and a visa to visit China. If you are planning to attend the SHVM meeting, you should check with your nearest Chinese Embassy or Consulate General about exact visa requirements and application procedure. You are strongly encouraged to do this as early as possible, since unexpected delays could compromise your attendance.
For attending a scientific conference, a tourist visa (L Visa) is generally sufficient, but please check with your local Chinese authorities. Remember, the Chinese authorities issue the visa, not your home government. An "attendance letter" will be provided by the conference organisers for those who need one. Additional information about this is available through your mySHVM area (myDocs section), after registration.
Also, should you need a formal letter of invitation or acceptance of your abstract for administrative purposes (such as applying for local financial support, etc.), please send us a request after registration. A generic letter will be prepared for you.
Arriving in Beijing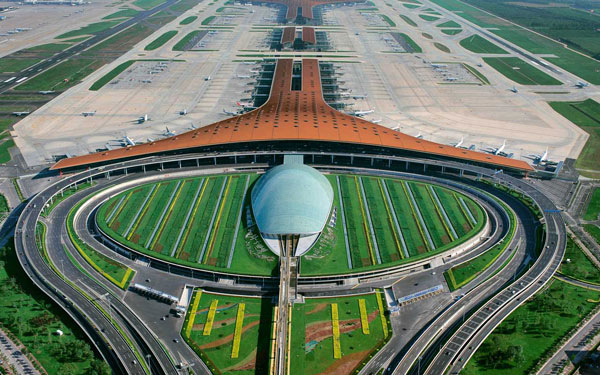 All major international airlines offer daily flights to Beijing, mostly landing at Beijing Capital International Airport (PEK), the world's second busiest airport in terms of passenger traffic. It is located about 32 km northeast of Beijing's city center and just over 30 km from the conference venue. Please note that it has three different terminals; unimportant when arriving but very useful to keep in mind for your departure. The largest and most recently built is Terminal 3, inaugurated for the Beijing Olympics in 2008.
Getting to the Venue
From the airport to the campus of Peking University, the most convenient way is to take a taxi. It costs about 100-120 yuan, already including a 10-yuan highway toll; see also the section on local currency, below. From the Arrivals Hall, follow the signs to the taxi rank outside. If you are approached by people offering transportation, it is best to ignore them. The trip from the airport to Zhongguanyuan Global Village takes about 40-50 minutes, depending on traffic conditions. Your final destination is
No.126 Zhongguancun North Street
Haidian District
Beijing 100871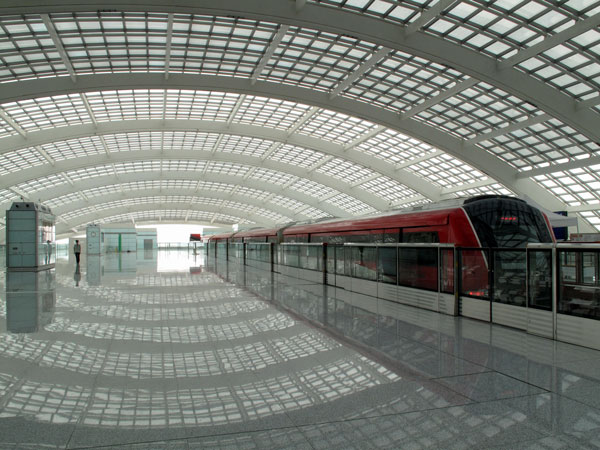 Alternatively, especially if you arrive before 10 p.m., you may take the Airport Express of the Beijing Subway to Sanyuanqiao; the trip costs 25 yuan. At Sanyuanqiao, first take Subway Line 10 to Haidian Huangzhuang, then transfer to Subway Line 4 and get off at the East Gate of Peking University. From Sanyuanqiao to East Gate of Peking University, the trip costs 5 yuan.

A map of the Beijing subways can be found here.

Another alternative is to take the airport shuttle bus no. 5, with the final stop in Zhong-guan-cun. From there, you should take a taxi to Zhongguanyuan Global Village. The total cost in this case is 26 yuan (16 + 10 yuan).
Once at Peking University, the map below (also available here) will help you walk to Building #1 or #9 of Zhongguanyuan Global Village. Scientific sessions will be held in Building #1 and hotel accommodation will be provided in both Building #1 and Building #9.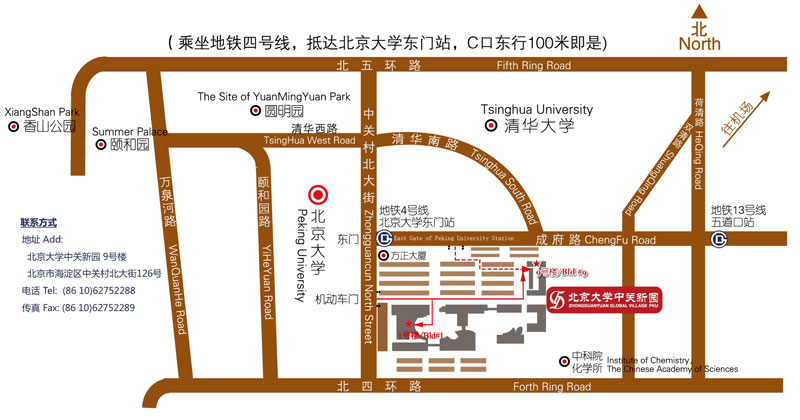 If you have difficulty finding building #1, try showing this sign:
师傅:麻烦您送我到北京大学中关新园酒店的1号楼,谢谢!如果找不到的话,
麻烦您拨打酒店前台电话62752288。
To find building #9, try:
师傅:麻烦您送我到北京大学中关新园酒店的9号楼,谢谢!如果找不到的话,
麻烦您拨打酒店前台电话62752288。
In each case, you are asking for directions to the corresponding building; the contact telephone is also provided. A translation would be
Sir, could you please take me the No.1 (No.9) building of the Zhongguanyuan Global Village of the Peking University, thank you! If you cannot locate the place, please call the front desk at 62752288.
The general telephone contact for the venue is (+86 10) 6275 2288.
After registering for this meeting, you will have access to your personal mySHVM space. Amongst other things, you will be provided with additional information about room reservations and the preferential hotel rates secured by the local organisers.
Local Money and Currency Exchange
The official Chinese currency is the Renminbi (RMB or CNY), which can be literally translated as "the people's money". The basic unit is the yuan (plural, yuan), indicated locally by the Chinese character 元 — at the time of writing, mid 2016, 100 yuan are roughly equivalent to 15.20 USD (13.60 EUR; 10.50 GBP).
It is advisable to have a small amount of local money with you, since taxis and other public transportation accept only cash. You are encouraged to use ATMs or one of the banks at Beijing Capital International Airport to get cash upon arrival. The exchange rate is officially controlled so variability between banks and locations is very small (and it can even be advantageous at the airport, contrary to other countries). If you wish to check the official exchange rate of your home currency, the Bank of China offers this page in English. If needed, you will find many banks throughout the city. More importantly, ATMs are never very far and you should be able to get cash from them using a credit card. Additionally, a Citibank branch is not too far from the campus.
Before departure, you can also use the banks in the airport to change local currency back into your home currency.
Getting Around
Within the city, the most convenient way to move anywhere that is not within walking distance is to take a taxi. It is cheap (by Western standards; 2 yuan per kilometer) and safe. You should pay exactly the amount shown in the meter. Do not pay tips. Tips and tax are included in the price. The night rate (between 11 p.m. to 6 a.m.) has a 20% surcharge. Be aware of unlicensed taxis, as these will often overcharge you. The plate number of a licensed taxi begins with B.
Alternatively, you may take the subway for longer trips (e.g., going downtown).
Although the bus services can get you to any point and the cost is very low (1 yuan per ride), this is not generally recommended, especially for newcomers on their first visit. Buses tend to be slow, can be unpredictable in terms of timetables, and are also quite crowded.